Show is better than Tell
With VidLeads your website visitors can send you videos. Understanding their problems is easy when you can see them!
Follow the Best Leads
Stop chasing leads that go nowhere. When you have videos from your potential customers, not only you can accurately gauge what they need, you can also get a feel for who they are and if they'll be a good fit for your business.
Invested Customers
Sharing information is investment. When your customers invest with you they are less likely to jump ship for one your competitors. Keep your customers in your house where they belong!

Video is the most powerful format for quickly sharing large amounts of information. More information equals more investment!
Better Estimates
You give better estimates after you see the job in person. You know this. But with video you can see the job without being there in person. Your estimates will be more accurate, and your customers will be happier.
How it Works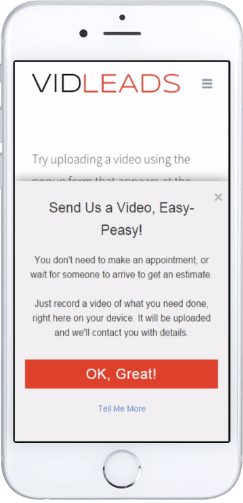 VidLeads runs on your website. Your visitors see a popup asking them to record a video of the work they need done.
Visitor records a video on their phone; it is uploaded automatically.
You get an email notification and can watch the video in your VidLeads dashboard. Then you can contact the visitor by their preferred method: phone or email.
Features
Email Alerts
Be notified by email immediately when a new lead arrives. Respond to your customers quickly and effectively.
Fully Customizable
Match VidLeads' colors to your website. Use custom text that speaks to your customers.
Useful Analytics
Keep track of how many leads you receive and how well your website is converting. Tune VidLeads to maximize your leads.
Use On the Go
Play video leads on any phone or tablet, anywhere. View new leads and respond to potential customers at job sites, in your truck, or from your lawn chair!
Integrations
Don't want "one more thing" to have to manage? Hook VidLeads up to your existing CRM solution, like SalesForce, and keep all your leads in one place.
Tailor To Your Visitors
Control when VidLeads popups get shown to your visitors, such as after a delay or after the visitor has scrolled a bit on the page.